Next, Utilita and Kind among the range of brands at Camp Bestival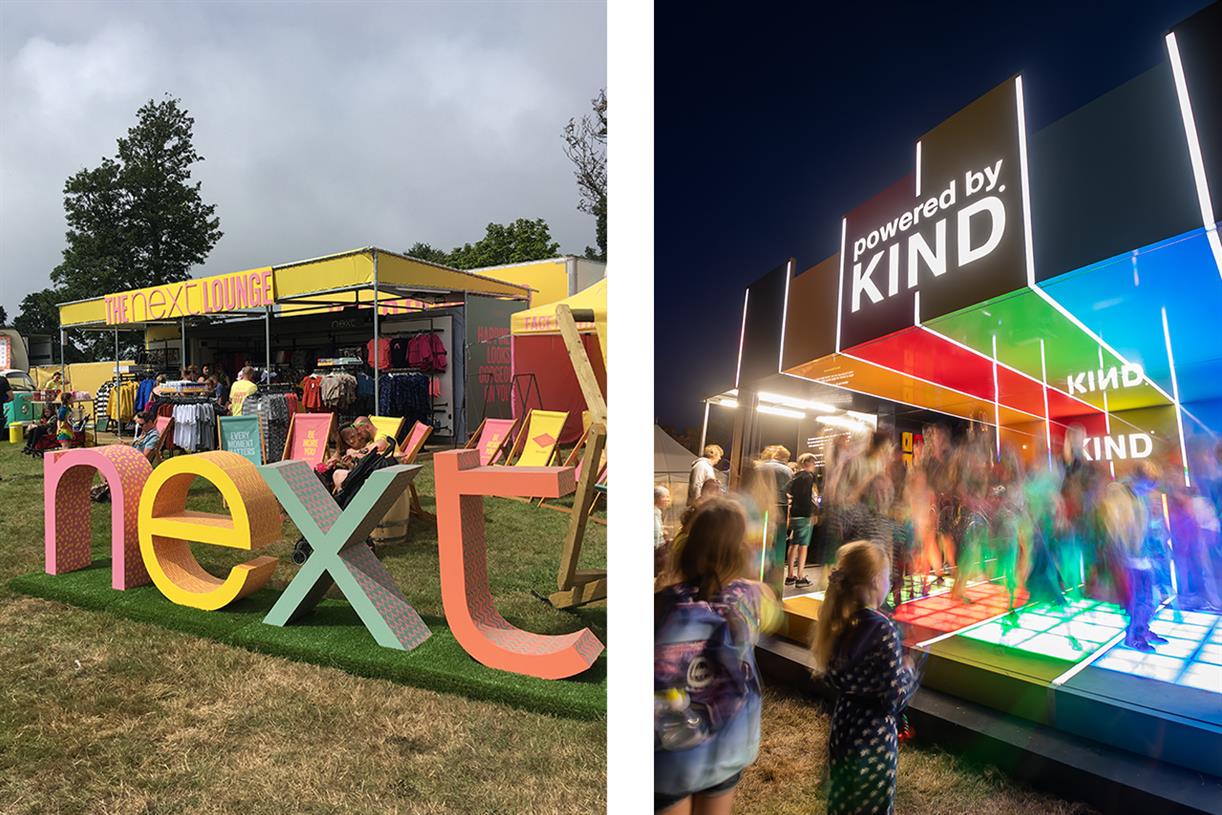 Camp Bestival, the family festival founded by Rob and Josie da Bank and now owned by Live Nation and SJM, featured branded experiences from a multitude of sectors keen to engage festival-goers at Lulworth Castle.
The festival, now in its 12th edition, has long attracted brands such as Hotpoint and Pernod Ricard's Brancott Estate, and this year has seen a number of returning partners including Next, Duracell and Utilita deliver activations.
New experiences have come from brands such as snack brand Kind, cider brand Thatchers and Greenpeace. The charity has brought its 'forest-friendly' skate ramp to Lulworth Castle, offering practice sessions and free skating afternoons, as well as a vegan cafe.
Kind delivered an experience that underscored its "not just for profit" philosophy, with a kinetic dance floor that harnessed the energy generated by the moving audience which, in turn, powered phone charging stations and other electronic devices. Activation was created by Sense.
Cornish pastry chef Ginsters has brought their shiny Airstream to Camp Bestival's Magic Meadow and created a chill-out area for guests to sample their new vegan patties. Thatchers, meanwhile, debuted at Camp Bestival with a truck offering samples, including the new rosé variant, and an "Apple Drop" game where festival-goers could test their agility and reaction speed by grabbing apples in foam falling from the top of a wooden arch. .
Energy supplier Utilita created the energetic "Spiinbox", a converted container that offered spin lessons and "gentle raving on the bikes", with DJs including Rob da Bank himself. The activation follows last year's "Power tree" installation and is part of the brand's four-year partnership with Live Nation.
Print is certainly not dead at Camp Bestival, with magazine brands providing creative experiences for families. family traveler has partnered with the festival since 2014, distributing its magazine in the official program bag, and this year's experience included working with tourism organizations Visit Florida and St Pete Clearwater. The casual space featured t-shirt design and coloring, as well as a virtual reality experience.
Immediate Media also returned to promote a number of magazines, including CBeebies, girls talk and Game of the day. Last year, Immediate maintained its CBeebies distinct experience from other brands, but this year opted for a single presence to appeal to families and groups with children of all ages.
The "Next lounge" returned to Camp Bestival for a second year, offering face painting, magic tricks and, most importantly, charging stations for devices – all in a colorful pop-up that also sold clothing and accessories. festival props.
One of the festival's most active activations was naturally that of a toy brand – LOL Surprise!. The American 'unboxing' phenomenon created an immersive experience where kids could get an exclusive look at the new line of dolls, dress up as their favorite character, visit a glitter station and parade down a catwalk.
The experience also featured a ball pit and prizes, ensuring strong crowds for all three days, while a performance in the festival's Big Top tent underscored the magnitude of the brand's partnership.
Jim Campling, president of UK marketing partnerships at Live Nation, said Countryside that music festivals have always been a source of bringing people together around a common goal. He added, "Partnering with brands that value live music and understand our generations of festival goers is hugely important to us."